ONLINE BINDINGS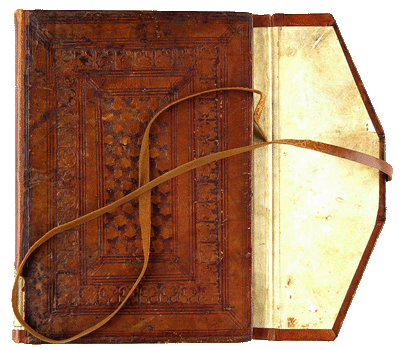 Ricc. 696
The project and its goals
The goal of this online catalogue is to describe the bindings (either intact or restored, provided they still preserve traces of the original features) of manuscripts dating as late as the XVI century and -- in the case of particularly precious items – the XVII centuries. This 'collection' amounts to some 320 items. The first stage of the project is limited to the bindings listed in the book Legature riccardiane, I, ed. by Rosanna Miriello (Florence: Polistampa, 2008).
Currently, the descriptions of 118 bindings are available online. Each successive stage in the project will lead to the addition of 100 new entries. The project will then be extended so as to include printed books.

For each binding both plates are shown (front and back, and the inside, too, for manuscripts whose wooden plates have not been covered) as well as the spine and the opposite side. The images are available both in 2D and 3D format. For bindings decorated with iron features, we have preferred to offer a negative image instead of the traditional frottis, whose quality is usually rather poor.

This data bank allows users to organize their research by century, place, typology, and so on. In all fields, various kinds of help and support are available. A full-text research can be done also for fields that – although not pertaining to book bindings specifically – happen to be important for manuscripts, such as writing support (parchment, paper etc.), copyists, owners and the like. Authors and titles can be found both in their most common forms and in their variants.

To make data accessible to as large an audience as possible, items are available in two different formats (as a concise, technical entry and in a more descriptive form). Likewise, users can rely on a glossary and a list of links to other data banks on this same topic.



Please note
The date (both explicit or supposed), the place, and the typology all refer to the book binding only.

The names of both Greek and Latin authors are in Latin, while those of humanists are in Italian. Book titles are left in their original language; only, titles in alphabets other than Latin have been written using Latin letters.

The "notes section" provides information on the manuscript's decoration and the copyist, whose inscription at the end of the book (if any) is transcribed. Likewise, this section offers further details concerning the manuscript such as owners' notes, ex libris, coats of arms, personal logos, previous call numbers etc. Also, Lami's call numbers are always reported.

The terminology used to describe the manuscripts is the one suggested for medieval book bindings by the Istituto di Patologia del Libro.

In creating this data bank, restoration documents from the library's archives (describing activities from the early XX century onwards) have been used.

The (select) Bibliography is mostly based on the index cards making up the traditional paper catalogue in the library.